Advanced Outdoor First Aid Course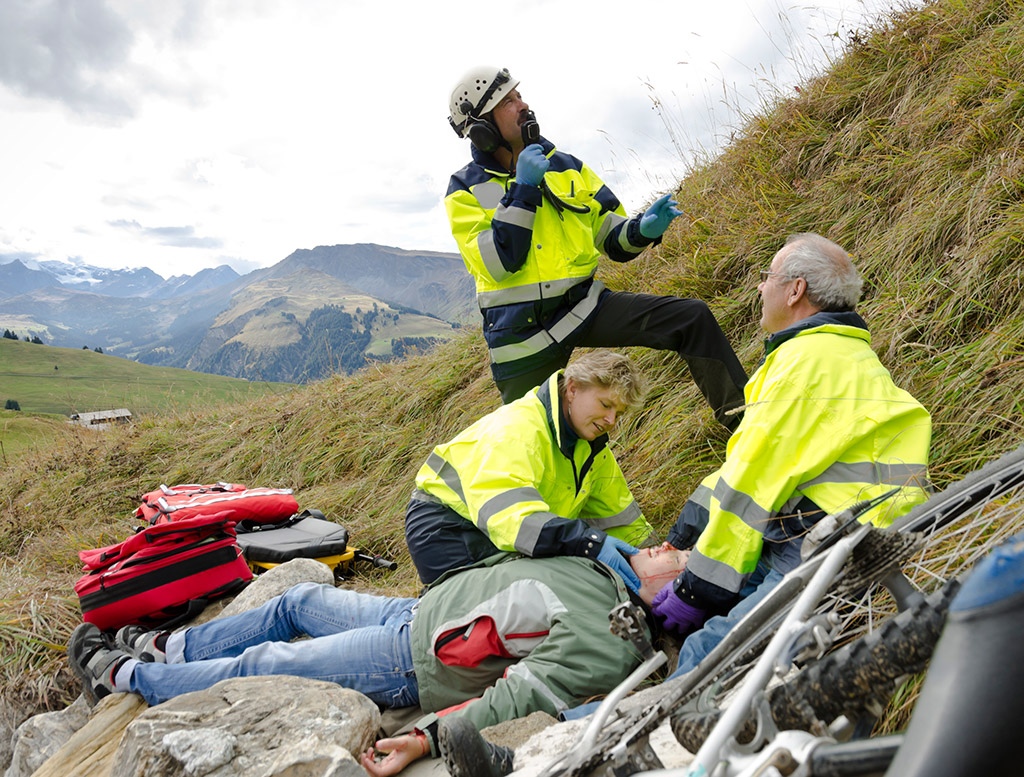 Who is the Advanced Outdoor First Aid course for?
The advanced course is for the experienced first aider who has previously attended a 16 hour Outdoor First Aid course. Rather than learning to use medical equipment that you are unlikely to carry, this course builds on the skills and knowledge of earlier courses so participants become 'advanced at the basics'. It is extremely interactive and practical in nature and, whereas on previous outdoor courses participants will have typically learnt what could be described as 'reactive' first aid, the advanced course is about more 'proactive' decision making.
It is a prerequisite that attendees of this course have previously attended a 16 hour Outdoor First Aid course and are familiar with accident procedures and have a good knowledge of basic techniques. This is a perfect option for anyone with prior first aid training who now wants to push their skills to the next level. This course is also a requirement for ITC trainers who wish to deliver 16 hour Outdoor First Aid courses.
The Training Package
18 hours of instruction over 2 days
Extensive scenario based and casualty incident training
Interactive and systemic training techniques
Successful participants will be awarded a certificate with 3 year lifespan
Certificate meets the requirements of NGB awarding bodies and meets the Level 4 standard on the IOL framework
Content Summary
Initial skills assessment
Advanced incident management
Triage, vital signs and proactive casualty monitoring
Dealing with collapse and breathing problems
Cardio pulmonary resuscitation (CPR)
Internal/external bleeding and the treatment of shock
Categories of shock
Treatment of damage (head, spine, chest, abdomen, pelvis, legs and arms) and improvised management techniques for wilderness settings
Dealing with medical emergencies such as asthma, diabetes, seizure, heart attack and anaphylaxis
Heat and cold injuries and management of casualties in remote environments
Developing awareness of current legislation
First aid kits
When, Where and How Much?
Our Advanced course will take place at the Hollowford Centre in Castleton. The centre is a great venue for first aid training right in the heart of the National Park and it has been our first aid home base for many years. The course will run from 9-7pm on day 1 and 9-5pm on day 2.
There are loads of accommodation options nearby including B&B's, bunkhouses, youth hostels and even camp sites for the hardy. We can provide details on suitable options.
There is also lots to do in the local area so do let us know if you want so extend your stay. As well as gritstone and limestone climbing venues (we can happily lend out local guidebooks if needed) and stunning hillwalking (we have route ideas and maps available) there are a host of world class mountain biking trails nearby.
Alternatively, if you want a more leisurely stay Castleton has plenty going on. It is home to several show caves including the Treak Cliff and Blue John caverns which are home to the unique Blue John stone and the flooded Speedwell Cavern where visitors get a tour by boat. There is also our local Norman Castle, an interactive visitors centre and many friendly pubs and cafes.
The course cost is £155
I'm up for it. What next?
If you'd like to join us we'd live to have you along (please be sure you have previously attended an outdoor first aid course). Just click the READ MORE button on the dates you require and complete the booking form and we will send you all the information to make the booking.
Alternatively, give us a call on 01433 620283 and we can get you booked on or answer any questions about the course.